Digitize your human resources department's processes, transforming it into HR 4.0.
Make h24 services available in self provisioning based on precise authorization levels, with complete traceability of all processes and with constant monitoring of workloads and time of execution.
The adoption of systems that support the automation of core HR processes makes it possible to:
optimize the activities of early resume screening and management of large applicant pools;
optimize the hiring and on-boarding process;
manage administrative and bureaucratic tasks;
monitor employees' habits and skills to better meet their needs and improve performance;
collect, manage and analyze the amount of data related to the workforce;
automatically perform routine tasks such as authorizing timesheets, updating personnel records, scheduling attendance and managing leave.
Step 1: Create the flow.
Every flow begins with a "Trigger" or "Triggering Event." The process, for example an on-boarding, could be triggered in multiple ways:
By reading a particular email received on the inbox (e.g., the response email to the signed commitment letter);
By displaying a web service so that the automation could be pulled from a system already present in the company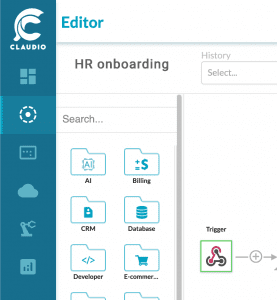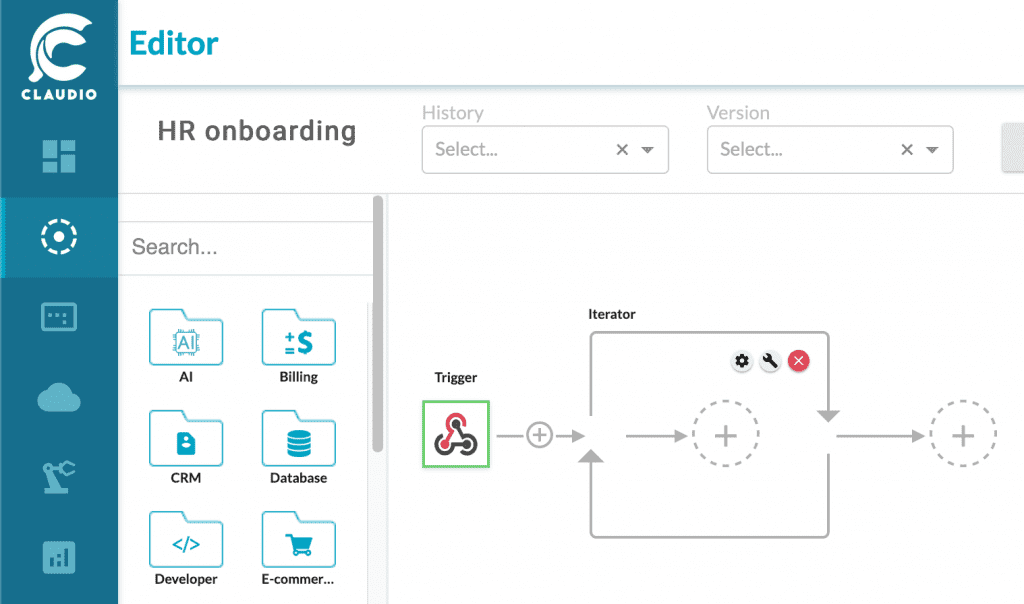 Step 2: Save the data
The flow can be expected to manage the on-boarding of multiple employees simultaneously, so all the steps in the flow for one employee must be repeated for all the others.
This can be done with the "Iterator" procedure.
Most likely one of the first steps you will need to take is to save the data in your master database.
Step 3: Sharing documents and opening tickets
Other steps in an on-boarding process may be:
Sharing of corporate information documents (e.g. Code of Ethics, Contract etc…)
Opening tickets for requesting corporate supply (phone, computer) or setting up the mailbox.
Thanks to Claudio's connectors these actions are quite simple and immediate.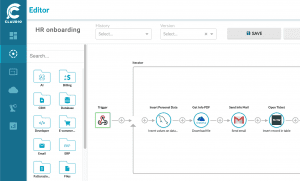 Step 4: Welcome Message
As the final step of the process, there may be a willingness to share a welcome message on company channels, customizing it according to the new employee's role.
In this example:
If it is an executive, a post is created on Linkedin;
If it is an employee, a message is posted on Slack;
Of course, the process just described is only one of the possible on-boarding processes, but through Claudio you can build your own process by leveraging the connectors most useful for the purpose.